We all know many Trump supporters like Candace Owens and Omarosa Managult Newman are or were just in it for the money. It's clear they were insincere con artists so one young woman decided to follow their lead and get some coins in her pocket.
See Also: President Donald Trump's Voter Fraud Claims Could Lead To More Voter Suppression
A woman with the Twitter handle @chckpeas wrote, "I will not hide any longer,, the left has made us feel as if us black republicans should hide!! but not anymore!! #BlacksForTrump #WalkAway #maga." She even posted a photo of herself in a Make America Great Again hat. See below:
After getting over 8,000 retweets and nearly 2,000 comments she also wrote, "thank you all so much for your overwhelming support. After seeing this tweet my parents cut me off and refuse to pay my university tuition. So if you can find it in your hearts to help this young, black republican pay for school it would be appreciated."
She also posted a series of text messages that were allegedly from her Trump hating mama: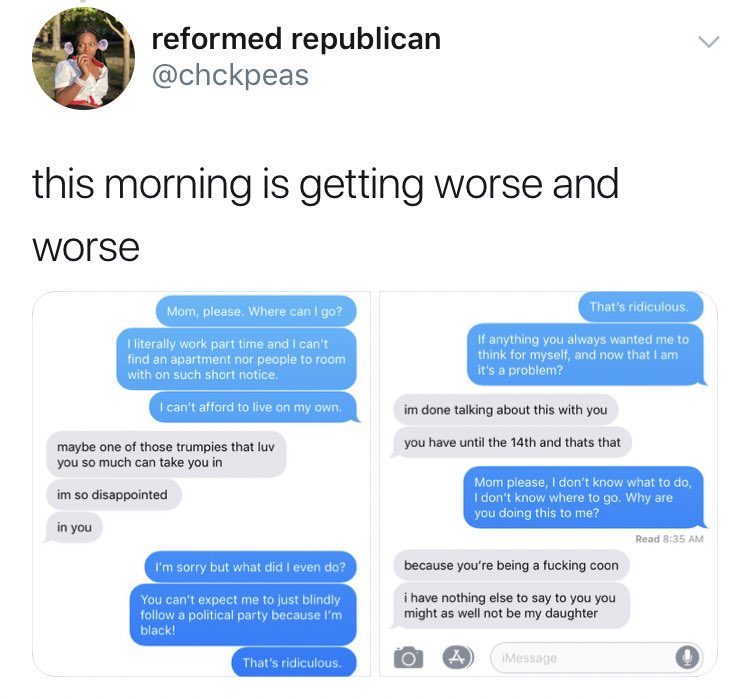 Of course, Trump supporters fell for this stunt. She started a GoFundMePage, which is now removed, and reportedly raised $150,000, according to reporter Alex Bruce-Smith, who wrote, "The GoFundMe has been taken down but there was a tweet suggesting she'd scammed about $150k."
The fake Trump supporter's response? She wrote on Twitter, "Hot take: stealing from republicans isn't bad because republicans arent ppl."
How desperate are Republicans to fall for a fake stunt like this? It's hard to feel any sympathy for them.
SEE ALSO:
Meet Jogger Joe, The Man Who Took Racist Cue From BBQ Becky In Tossing Homeless Man's Clothes
Trump-Supporting DA Calls 'Ghetto' Maxine Waters A 'Bitch,' Can't Believe She Hasn't Been Shot
This Colin Kaepernick Retweet Says Everything You Need To Know About The NFL Players' Anthem Grievance
Republicans Reportedly Gave A Black Woman $150,000 After She Faked Being A Trump Supporter  was originally published on newsone.com